KKK memes and costumes in the Ben Roberts-Smith trial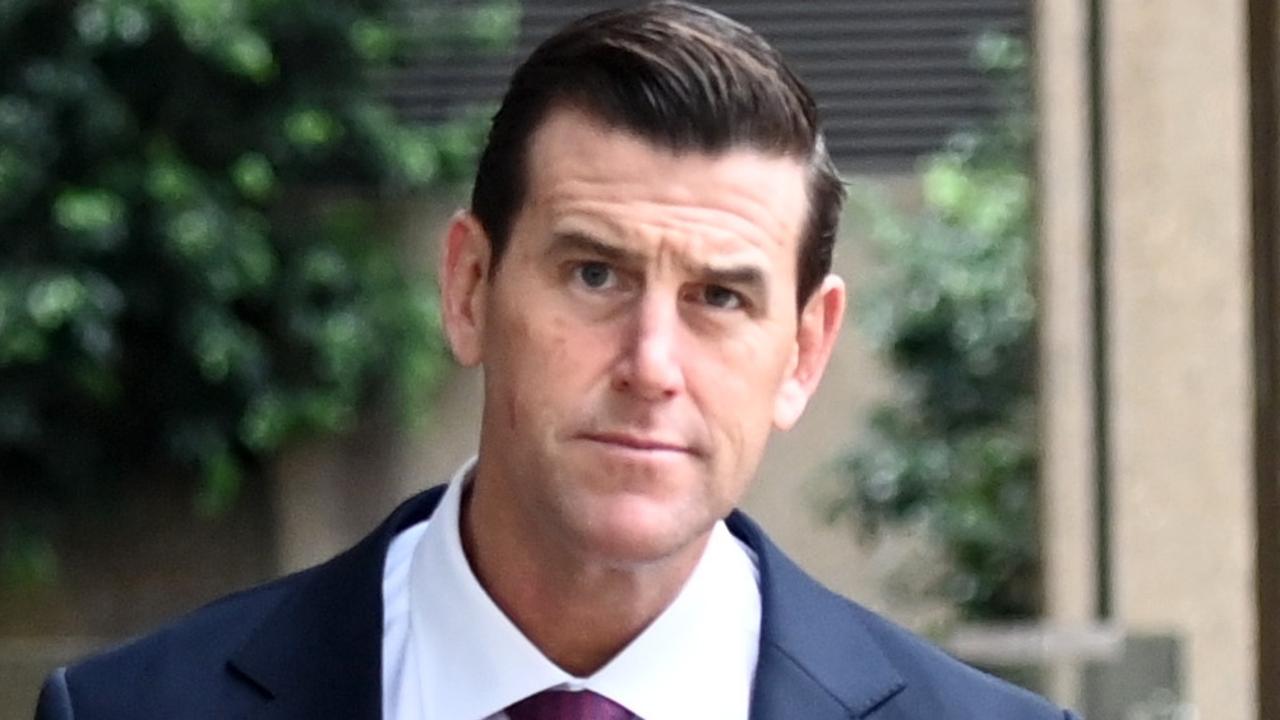 A Ben Roberts-Smith SAS witness 'pushed' a police officer as they tried to get his phone, court documents show.
SAS witness arrested after testifying for Ben Roberts-Smith has been charged with 'harming' an officer – now court documents reveal he allegedly 'stretched up' and 'pushed' a cop as they were trying to get his phone.
Court documents seen by the Daily Telegraph reveal Australian Federal Police attended the Marriott Hotel on Sydney's Pitt Street late on April 26 to execute a warrant against one of Mr Roberts-Smith's former SAS teammates .
Officers were waiting on the soldier's floor and approached him just after 11 p.m., according to court documents.
Police, in the documents, allege the former special forces soldier appeared "drunk" and acted in a "belligerent, unreasonable and aggressive manner".
Court documents say the SAS veteran, known as Person X, attempted to enter the elevator to leave the hotel and refused to hand over his phone, but police attempted to arrest him.
"When prevented from entering the elevator, to prevent the destruction of evidence being the cell phone … the defendant tensed, clenched his fist and pushed the police towards the body," alleges the font in documents.
The documents do not reveal why the police suspected that Person X would destroy his phone.
Person X was arrested and charged with resisting police and injuring an officer – court documents indicate the thrust was the assault.
Person X spent the night in police custody before finally managing to contact his lawyer on Wednesday morning.
He was released on bail and allowed to leave the country for his home in the United States on $10,000 bail.
His case will then be heard in court in June.
The libel suit launched by Mr. Roberts-Smith will continue in the meantime before the Federal Court.
At Thursday's trial, the court heard an SAS witness for Ben Roberts-Smith make a "mistake" in accusing an Afghan soldier of accidentally shooting an Australian soldier and a dog in evidence that may have been carrying a " coup de grace" against Nine Journals.
Mr Roberts-Smith is suing nine newspapers over a series of allegations that he committed war crimes in Afghanistan.
Nine insists the articles are true and is now cross-examining SAS witnesses who testify for Mr Roberts-Smith in the Federal Court libel suit.
A soldier, known as Person 35, gave evidence of a raid in 2009 which could be crucial to Mr Roberts-Smith's case.
Person 35 told the court that he cleared a hidden tunnel at a Taliban base and found no men hiding inside during the raid.
This contradicts claims by Nine and other soldiers that two Afghan men were found in the tunnel before Mr Roberts-Smith killed one and watched the execution of the second.
Mr Roberts-Smith also denied Nine's allegation that he ordered an Afghan Partner Force soldier to execute another detainee at Khaz Uruzgan in late 2012.
Nine claims the soldier who pulled the trigger is an Afghan known as Person 12.
Mr Roberts-Smith's witnesses, in legal documents, say this is incorrect because person 12 was not even authorized to work with the SAS at the time.
Several SAS witnesses, including Person 35, claim that Person 12 was expelled from the partnership after shooting a dog and the bullet ricocheting and injuring an Australian soldier.
But on Thursday, Person 35 admitted he "misremembered" and agreed that Coalition military documents showed Person 12 had not been removed from the force.
Person 35 denied deliberately lying in court to protect Mr Roberts-Smith in his testimony regarding Person 12.
The soldier said his memory just didn't match the official records, but admitted he was wrong about Person 12.
Mr Roberts-Smith, in his own testimony, argued that Person 12 was not in Khaz Uruzgan and therefore could not have pulled the trigger, as Nine claims.
Proving that Person 12 was not in Khaz Uruzgan would have been a "coup de grace", Nine's lawyer previously told the court.
Nine alleged that Mr. Roberts-Smith and his witnesses colluded in accusing Person 12 of shooting a dog in a separate legal challenge, while lawyers for Mr. Roberts-Smith claim that the newspapers attempt to harm the public and the court.
Person 35, earlier Thursday, was asked about one of the now infamous drunken parties at the SAS bar known as the Fat Ladies Arms inside the Australian base in Afghanistan.
The soldier told the court he didn't order a costume online, like his teammates, for a fancy dress party in 2012, so he made himself a Ku Klux Klan costume instead.
"I knew another person was coming in black and I thought it would be funny if I came as a Klansman," Person 35 told the court.
"It was just a travesty…to poke fun at the real klan itself. They are quite pathetic (I was) making a joke.
Mr Roberts-Smith's solicitor, Arthur Moses SC, asked Person 35 if he had been reprimanded for the costume pictured with a burning cross.
Person 35 said he wasn't – and in fact, he won best dressed at the party.
Nine's attorney, Nicholas Owens SC, began cross-examining Person 35 about a series of offensive posts he had liked on Instagram.
The court heard that person 35 liked a post containing an image of a man labeled "Fairfax", the original owner of the Nine newspapers, with a long caption below.
"When some asshole in a suit starts using his f***ing logic he learned how to get his tonsils bruised by a professor's speckled dick at their non-binary law school, remember one thing: that this c*** gonna be one of the first to be held back and drowned in a puddle of mud for his fancy jacket," the caption read.
Mr Owens suggested it was a reference to him, but Person 35 disagreed, saying he only liked the posts because they were funny.
The lawyer said the soldier didn't like the messages the morning before he took the witness stand.
Another post appeared to mock a dead Afghan who Nine said was thrown off a cliff by Mr Roberts-Smith, the court said.
The post, also liked by 35 people, suggested the slain Afghan was a Taliban and a paedophile, the court heard.
Person 35 told the court he was not at the house where Nine claims Mr Roberts-Smith threw a man off a cliff, but he was on a mission.
"(Mr Roberts-Smith) didn't throw anyone off a cliff, I know my friend Ben and he wouldn't do that," Person 35 said.
"I can talk about the character of the man and do I believe he did that? No I do not have."
Person 35's legal costs are being paid by Kerry Stokes of the Seven Network, who are also funding Mr Roberts-Smith's case.